500 ml reh food supplement

 

Recommended Intake
For Adults : take 20 ml before meals 3 x a day
For Children: take 10 ml before meals 3 x a day

With everyday use:
the body is detoxified. Stored toxins are filtered out of the system.
As the body gets used to cleansing power and as the bodily systems normalize, the Immune System is strengthened.
Organ Functions are restored and enhanced.
Metabolism and Stamina increases.
Blood Sugar level is normalized.
The balance of ions in the body is corrected and restored.

Ka Rey Herrera (Cure Inventor)

 

Si KA REY HERRERA, ay nagtiyaga at masusing pinag-aralan ang herbal formula kaya sya gumaling sa sakit na cancer.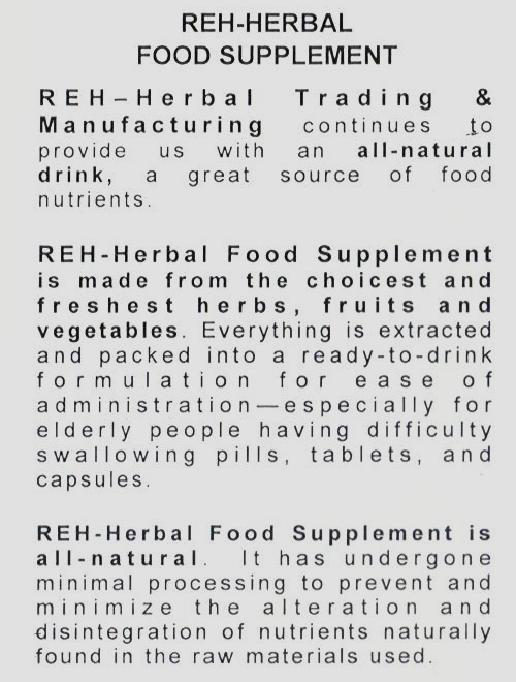 CONTAINING
PYTOCHEMICALS: the protective disease preventing compound that have the potential and is proven to cure such diseases and ailments:
Cancer, Diabetes, Hypertension, Cyst/Tumor, Heart and Kidney Disease, Asthma, Paralysis, Fatigue/Stress, Arthritis/Rheumatism, Tonsilitis, Memory Loss, Poor Eyesight, Insomnia, Fever/Flu, Sinusitis, Ulcer, Migraine, High Blood, Sleep Disorder, Leukemia, Stroke, Prostate, Goiter and other ailments that are beyond medical means and hope.
For testimonies, just log on to www.youtube.com
And search for reh herbal


Major Ingredients:

Makabuhai- the whole plant contains the bitter principle columbine, picroretine, traces of berberine, glycosyde and alkaloids. It is considered as a universal medicine. It helps treat stomach trouble,indigestion, diarrhea and malaria. It is tonic and also used as a febrifuge(lower fever).

Gabi or Taro - contains carbohydrates and vitamin B. It is used as a digestive, laxative, and diuretic.

Luyang Dilau or Tumeric - a good source of calcium. It is used as aromatic, stimulant, tonic, antispasmodic, carminative, astringent and anthelmintic. It is administered in intermittent fevers and is used for dispelling, flatulence, dyspepsia, and weak stomach. It is used against colic, amenorrhea, diarrhea, dysentery, and congestion.

Luya or Ginger - contains aromatic volatile oils, gingerol, gingerin, and resins. It is used as stomachic, carminative, diaphoretic, diuretic, stimulant-specially in flatulence and colic, vomiting spasms and other painful afflictions of the stomach. It is also effective for rheumatism, colds, asthma, dyspepsia and indigestion.

Squash - is an excellent source of vitamin B, vitamin A, iro, phosporus, and calcium. It is also used as vermifuge, anthelmintic in urinary diseases, and diuretic in gonorrhea.

Carrots - contains volatile and fixed oils, carotene, lecithin, phosphatide, glutamine, meelic acid, pectin, aspargenine and inosite. It is good source of calcium, iron, phosporus, fair source of vitamin B. Contains vitamin A2, B2, C2, G1. Carrots have the beneficial effects in kidneys and it prevents the brick-dust sediment sometimes found in urine. It is said to cleanse blood. It is a popular remedy for jaundice. It is also considered as nervine tonic, and is given in uterine pain. It is recommended for chronic diarrhea.

Kalamansi - it is rich source of vitamin C, contains alderhydes, sesquiterpines, linalool, tannins, and cyanogenetic substances. It is used as carminative and as remedy for coughs.

Tomato - a good source of iron, phosporus, vitamin A, D and C. It is used as a promoter of gastric secretion and blood purifier. It is considered as intestinal anti-septic due to natural acids which cause cleansing effect in the alimentary canal and keeps our stomach and intestine in condition. It stimulates torpid liver and promotes the flow of bite. It is corrective for kidneys, as it is a gentle and natural stimulant, which helps wash away the poisons, and toxins that cause diseases and contamintae our system.